British Airways Showcases New Club World in Shanghai
British Airways | Nov. 29, 2007
A revolutionary new standard of business class travel arrives in Shanghai on November 29, as British Airways unveils its new Club World cabin to customers and the public at the Westgate Mall in downtown Shanghai.

The new Club World, which will be available between Beijing/Shanghai and London in 2008 is on public display at the Hall of Westgate Mall from November 29 until December 2, 2007. From concept to design to implementation, British Airways has remained true to its premise of "designed around you". Every element of the new Club World experience takes into account the requirements of the modern premium traveller, offering passengers unprecedented levels of comfort, privacy, flexibility and technology. Visitors to the mall can experience for themselves the latest in business class luxury as they explore the new Club World cabin display, and what's more, they can enter an on-stand prize draw to win two return Club World tickets from Shanghai to London.
Since the introduction of fully-flat business class beds in 2000, British Airways continues to lead the way as a pioneer in redefining industry standards. With this 100 million pounds (approximately 1.57 billion yuan) investment, the "designed around you" new Club World experience anticipates passengers' every need pre-flight, onboard and after landing.

As well as increasing the width of its six-feet long fully-flat beds by 25 per cent, British Airways has introduced a new unique zero gravity 'z' bed position that supports the knees and back in a highly ergonomic seated recline, and which also extends the seat to six-foot-six inches - all designed to ensure customers achieve a feeling of complete relaxation, rest and well-being whether sleeping, snoozing or watching movies.

Electronically-operated privacy screens using Lumisty technology assure privacy to sleep, work or enjoy the upgraded Club World entertainment system. Customers can choose from more than 100 movie and TV channels, 70 CDs and 20 games through the cutting edge audio-video-on-demand system, which offers customers ultimate control over what to watch and when. No more worrying about the trying to locate the remote control, all this is accessible through an interactive touch-screen panel.
Those who fancy a midnight snack in-between meals can indulge themselves whenever they please in the new on-board Club Kitchen, which offers a wide range of food and beverage choices that are available whenever temptation strikes.
"In line with the growing importance of the China market in the global economy, the popularity of our Beijing and Shanghai to London Heathrow routes has been soaring in recent years. We are confident with the new Club World we'll be even more appealing for customers in this strategic market," said Sara Janine Thorley, British Airways Manager, China.

"We are also seeing increasing numbers of leisure travellers opting to upgrade to Club World and enjoy the feeling of five-star pampering and luxury in their personal time." she continued. "As such, the entire new Club World concept is designed around you, the customer, however you choose to use it - and the product and service provided is second to none."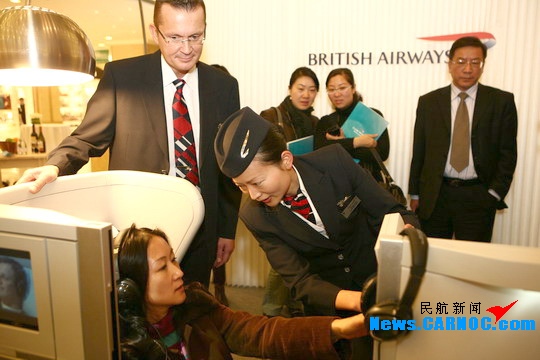 The cabin re-design means an additional 434 Club World seats will be flying, a capacity increase of eight per cent across the fleet. When completed, British Airways will fly even more business class beds around the world than any other airline.

Passengers travelling on British Airways to London via Hong Kong can already enjoy the new Club World on all flights. Whether flying from Shanghai, Beijing or Hong Kong passengers can reserve their favourite Club World seat at time of booking or up to 24 hours in advance via www.ba.com, and print off their boarding card to save time at the airport.

Furthermore, Club World passengers can check-in 3 pieces of luggage up to 23 kilos each, as well as golf clubs or skis for free.
Most Popular
Most Commented