Terrifying Moment Refrigerator "Explodes" in Severe Turbulence on JetBlue Flight, Leaving 8 Injured
By Gemma Mullin, The Daily Mirror | May 10, 2016
This is the terrifying moment a JetBlue flight was hit by severe turbulence causing a refrigerator to "explode" and leaving eight people injured.
Frightened passengers described the shaking plane as being "like a movie" after oxygen masks fell from above their heads and they were ordered to fasten their seatbelts.
The flight from San Juan , Puerto Rico, was travelling to Orlando, Florida, when it reportedly crossed into the path of a storm.
Cabin crew were making their way through the aisle with their trolleys filled with food and drinks when the aircraft began to violently shake.
Cabin crew were forced to take seats as turbulence rocked the plane, sending food and drinks flying. Veronica Hernandez Torres
The plane landed safely at Orlando International Airport at 9:00 p.m. local time and medics rushed on board to tend to the eight injured, who were then taken to Florida Hospital East.
Snapchat footage, filmed by passenger Veronica Hernandez Torres, who was travelling with her daughter, Amaia Zoe and mother, Ada Torres, shows the moment emergency services, including firefighters, raced onto the plane.
She told Univision the turbulence worsened when air hostesses were serving snacks to her family.
Food and drinks are scattered on the airplane floor following severe turbulence. Veronica Hernandez Torres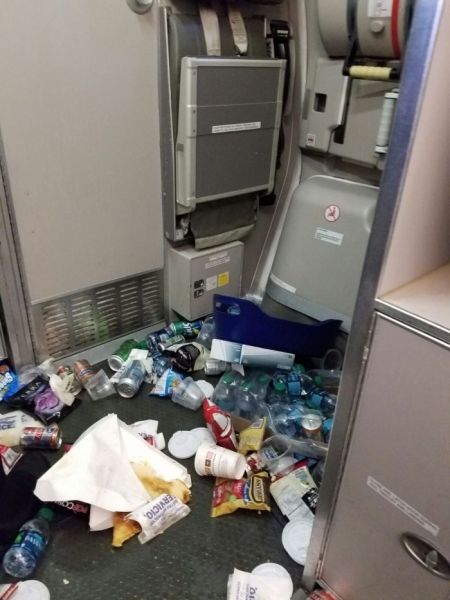 "That was just the time it got worse, the drinks are all tacked above and we were asked to quickly buckle our seat belts," she said.
"The hostess ran to sit and went to the back, it was like a movie.
"The belts were buckled and at that moment the plane (hit turbulence) and the oxygen systems came down. The doors of refrigerators exploded - it was horrible."
Oxygen masks are released during the incident. Veronica Hernandez Torres
She also shared pictures showing the aisle of the plane covered in snacks, which had been thrown from the trolley, as well as by the exit doors.
The crew asked if anyone on board was a doctor and an unidentified man rushed to help those who had been injured until the flight could land.
Another passenger, Gelixa Marie Casiano, later took to Twitter to complain directly to the airline that she had been injured but the crew showed a "lack of interest".
@JetBlue just flew flight1134,my back and neck hurt really bad and the lack of interest from the FlightAttendant was evident.So disappointed

- Gelixa Marie Casiano (@GelixaMarie) May 10, 2016
JetBlue replied saying: "We hope your back and neck start to feel better. We know that was a rough flight, and later this week we plan to contact those who were onboard to collect feedback and check how they're doing."
A spokesman for the company said in a statement: "JetBlue flight 1134 experienced turbulence while en route from San Juan, Puerto Rico, to Orlando.
"The flight arrived in Orlando at 8:52 p.m. ET. Medical personnel met the aircraft upon arrival to assist customers, and eight customers were transported to a local hospital for further evaluation."
It comes after a plane was forced to make an emergency landing on Sunday after heavy turbulence ripped off an engine cover.
The Delta Flight 762, from Atlanta to Chicago, was flying at 28,000ft over Cleveland, Tennessee, when the cover, known as the cowling, broke off and hit part of the fuselage.
Right hand engine seen after landing
Terrifying images show the bare engine after the pilot had to make an unexpected landing at Nashville International Airport, WTVF reported.
All 109 passengers and the five crew members on board landed safely and an investigation has been launched, according to a statement from Delta.
A spokesman for the airline said: "The crew of Delta flight 762 from Atlanta to Chicago Midway on Sunday afternoon followed established procedures after an issue with one of the Boeing 717's two engines occurred during flight.
"An emergency was declared for priority air traffic control handling into Nashville. The aircraft landed safely and taxied to the gate normally.
"The engine's outermost covering, or cowling, was observed to be missing from the engine on the aircraft's starboard side.
"The 109 customers on board are now being served food and beverages in the terminal as they await for another aircraft to arrive into Nashville to continue their travel to Chicago Midway this evening. Additionally, Delta has been in touch with customers with a gesture of apology.
"Delta will fully investigate this episode as the safety and security of our customers and employees is always our top priority."
Related News:
Incident: Delta B712 Near Nashville on May 8, Turbulence Drops Engine Cowl
Most Popular
Most Commented