CAAC Grants Permits for 105 International Routes in Q4 2016
By Lena Ge, China Aviation Daily | Jan. 18, 2017
The Civil Aviation Administration of China (CAAC) has authorized 105 international routes in the fourth quarter of 2016, according to a note posted on its official website.
From October to December, the aviation watchdog approved 17 Chinese airlines to launch 56 international routes, with 49 more services by 25 foreign carriers.
Hainan Airlines led with approvals for nine international services to New York, Los Angeles, Sapporo and Laos.
Sichuan Airlines and Capital Airlines followed with approvals for seven and five international services. The Chengdu-based carrier has gained rights of Tianjin-Xi'an-Katmandu, Guangzhou-Clark, Chengdu-Los Angeles, Chengdu-New York, Hangzhou-Xi'an-Katmandu, Chengdu-Kalibo and Chongqing-Kalibo; while the Beijing-based carrier has been approved to fly to Jakarta, Vienna, Moscow, St. Petersburg and Melbourne.
Shanghai-based low-cost carrier Spring Airlines received permission to launch 9 international services to Jeju, South Korea, while Tianjin-based Okay Airways has been granted traffic rights to Hakodate, Okinawa, Vladivostok, Aomori and Vietnam.
Besides, Uni-Top Airlines got approval for five cargo services, namely Zhengzhou-Osaka, Shenzhen-Jakarta, Wuhan-Bishkek, Singapore and Vietnam.
Other Chinese carriers, including China Eastern Airlines, China Southern Airlines and Xiamen Airlines also received approvals for various international routes.
Meanwhile, the CAAC also gave green lights to 25 foreign airlines for launch 49 air routes to Chinese cities.
The details of the new routes are as follows: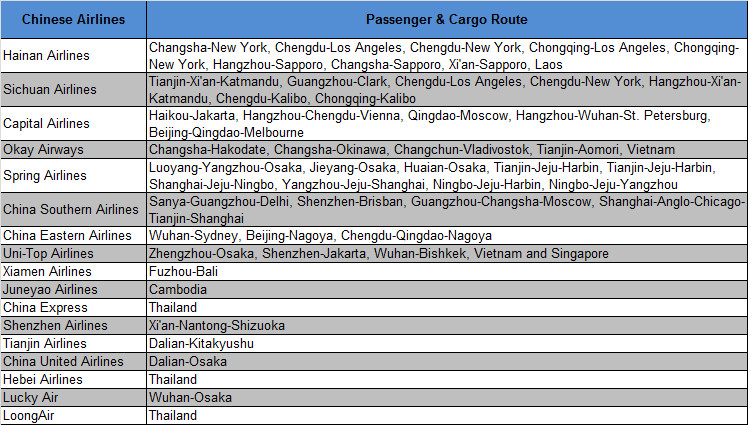 Data: CAAC
Most Popular
Most Commented